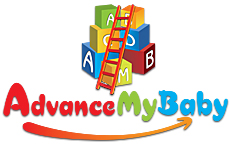 Florida (Vocus/PRWEB) February 16, 2011
Churches and synagogues stand poised to be the national influence they once were when the United States was founded, says Advance My Baby?s Barry Carroll. All they need to do is open their doors to families struggling with troubling child trends and offer them a strategy to reverse those trends. The community very well may beat a path to their door.
Advance My Baby, Inc., recently set a new standard in parenting with the publication of its manual earlier this month. The manual is a self-help guide for parents that empowers them with knowledge and skill to raise beautiful, healthy babies. The Advance My Baby manual teaches what developmental milestones to watch for each month and is a day-to-day system taking a baby from birth to 36 months of age. Each chapter concludes with a Home Checklist to monitor activities that are all designed to enhance the ?Sensory Processing,? experience. The 200+ page manual is full of colorful pictures of children at the appropriate age.
?Wikipedia shares the information that it was the church who advanced education prior to, and during the founding of the United States, by establishing 16 colleges, including those that would eventually be known as Harvard, Yale and Princeton? reports Carroll. ?We believe the church can return to this high calling of influence by educating parents about Sensory Processing, which has been called ?nutrition for the brain.? It is the building block for academic success, athleticism and balance in social and emotional areas; however, most parents are uninformed.?
Under this plan, churches can offer free or fee-based Parental Education Classes to their communities. The classes are offered by Advance My Baby, Inc. and can be offered live or through webinars. The 4 session curriculum educates parents regarding the importance of developing the seven senses of a child: Smell, Touch, Taste, Vision, Hearing, Movement/Balance and Muscle Tone. Parents are taught to recognize signs of normal progress and signs that their baby needs a little more reinforcement. The classes can be combined with a devotional or Bible study and provide the building blocks of development that every parent seeks.
To participate, designated church leaders are asked to call for an appointment for an orientation of the curriculum. Then a time and method schedule will be set to attract those in the church and community. The sessions can be offered free of charge or fee-based sessions could include the Advance My Baby manual and/or the AMB On-Line Assessment.
Advance My Baby, Inc. is part of an entire educational and training process to turn back the tide of troubling child trends. Since the late 1990s, there has been an epidemic of premature births, skyrocketing autism and quickly increasing Attention Deficit Hyperactivity Disorder (ADHD). The Center for Disease Control in November said one out of every 10 children have ADHD.
# # #